Rock Island Auction Company is the firearm industry's go-to source for unique collectible guns such as dueling pistols. Our record-breaking auctions have featured a wide range of these muzzle loading pistols.
Because authentic dueling pistols are centuries old, you want to buy your set from a trusted antique firearms company. At Rock Island Auction, we have a team of experts with years of experience in properly classifying and assessing various firearms. When you purchase an item from our catalog, you can rest assured that the firearm you bid on is exactly what you will receive.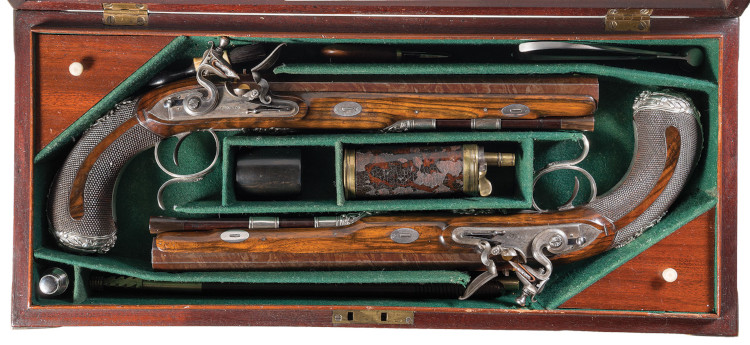 What are Dueling Pistols?
We've all heard the stories of famous historic figures calmly engaging in contests of mortal combat using these classic pistols. But what is a dueling pistol and why were they created? The dueling pistols we know today originated in England in the 18th century. Early dueling pistols were often common handguns used by military service men, but soon developed their own style and strict parameters, eventually featuring elegant embellishments and a variety of barrel weights and lengths. Dueling pistols quickly found their way to America and started to make their mark in high society circles. The beautifully designed pairs were a sign of wealth and prestige above those who could only afford more practical firearms. The guns were created as a means to settle affairs of honor between gentlemen. The dueling pistols were intended to be sold as identical guns in sets to ensure a fair duel.
Even as time went on and the flintlock mechanism was surpassed by percussion locks, some people still preferred using a flintlock dueling pistol. Whether for nostalgia, aesthetic, or visual appeal, it was certainly not practical. The percussion cap ignition system is faster, more accurate, and more reliable.
Collectible Dueling Pistols
Since dueling pistols were once a highly embellished status symbol, many have been well preserved. Despite the amount of specimens we see today with high quality engraving and embellishments, such ornamentation on old guns was uncommon and today they are extremely collectible. Dueling pistols are a favorite of firearms collectors due to their connection to influential politicians, military leaders, and famous figures across history. Additionally, high quality dueling pistols by well-known gunmakers have proven to be sound investments for gun enthusiasts. They are inseparable from what today is considered a barbaric practice, and remain supremely fascinating even to those unfamiliar with collector firearms.
Get Antique Dueling Pistols Today
Rock Island Auction Company has had the pleasure of selling some absolutely astounding sets of dueling pistols over the years. These antique firearms can be found at a range of price points to suit many collectors' and investors' budgets. We strive to always help our customers find the remarkable and rare pistols they seek. Firearms investors and collectors alike can find exceptional pairs of dueling pistols in almost every one of our Premier firearms auctions.
Buy From A Source You Can Trust
As a collector of antique guns, it's important to buy from only the best firearm experts who can accurately recognize slight differences in used guns such as dueling pistols. At Rock Island Auction Company, we have years of expertise in evaluating and selling collector firearms. Our knowledgeable team of experts will help you find the highest quality firearms available to fit your exact needs. Check out the items we have for sale in our upcoming antique gun auctions.