On the hunt for an M1 Garand for sale? Often regarded as one of the most prolific rifles ever invented, the M1 is highly sought after by gun collectors in every market.
Bid in one of our upcoming RIAC auctions to add a new M1 Garand to your collection. Our Premier, Regional and Online Auctions feature rare finds in great condition. Our RIAC team of experts performs a visual inspection and function check on each firearm in our gun auctions.

Discover the History of The M1 Garand
After World War I, the need for an auto-loading infantry rifle was evident. The United States Army found that answer via John Garand, a Canadian born inventor working at Springfield Armory, who designed a rifle that met their laundry list of specifications. Garand's proposed rifle beat out its competition, but it still importd work to meet the demands the government had for the military gun. Over a decade of prototypes later, Garand perfected the rifle that we now know as the M1 Garand.
From 1936 until 1959 the M1 Garand was the standard United States infantry rifle, and it continued to see use as late as the Vietnam War. Throughout its history, the M1 Garand became known as the US military's most successful infantry weapon. Famed World War II general George Paton even declared the M1 Garand to be, "the greatest battle implements ever devised."
After the World War II, many M1 Garand rifles were placed into storage to preserve the firearms until they needed to be used again. Amazingly, more than eighty years after its creation, the M1 Garand is still used by military drill teams across America.
At RIAC, our M1 Garands for sale are perfect for gun collectors and enthusiasts seeking to add a piece of history to their collection. In 2013, we auctioned off John F. Kennedy's M1 Garand for $149,500. We also sold the M1 Garand that was presented to none other than John Garand himself. Throughout the year, our Premier and Regional Auctions offer rare M1 Garands for sale you won't find at any other auction.
If you are looking for a Garand for sale, browse our extensive catalog online or visit an upcoming auction.
Contact RIAC Today
Ultimately, when a customer is searching for a rare, high-quality gun, they turn to the global leader in collectible and antique firearms, Rock Island Auction Company.
Since 1993, we have sold some of the most well-known and remarkable weapons in the firearm market. We continuously break our own records for gun prices year after year. Whether you want a specific pistol, shotgun, or a notable M1 Garand, our team would be more than happy to help you.
Visit an upcoming gun auction to find the newest memorabilia of your firearms collection. We look forward to meeting you!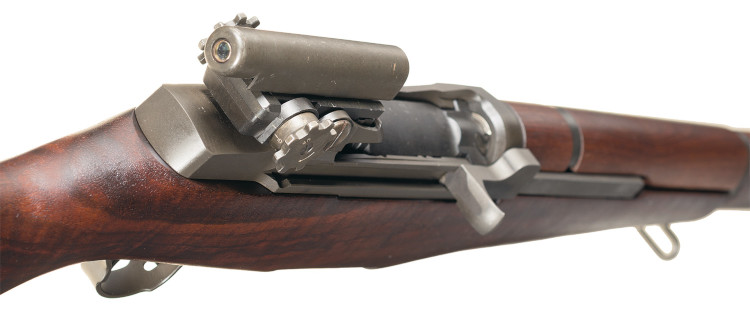 This M1 Garand features an experimental collimator rear sight. It sold for $28,750.