DECEMBER 2021 PREMIER AUCTION VIRTUAL CATALOG

THE ELEMENT
CODE FOR DISCOUNT IS - RIAC AUCTION
RESERVATION MUST BE MADE BY 11/23/21
316 12TH ST MOLINE, IL
309.517.1659
$79.00 W/BREAKFAST
6:00 PM RESERVATION DAY CANCELLATION POLICY
Website
JUMER'S
JUMER'S CASINO & HOTEL
CODE FOR DISCOUNT IS - CRIADEC
RESERVATION MUST BE MADE BY 11/23/21
777 JUMER DRIVE
ROCK ISLAND, IL 61201
309.756.4600
800.477.7747
Website
Rock Island Auction Company's December 3 - 5 Premier Auction is winter's flagship event in the world of fine arms collecting. The December spectacular kicks off with a Thursday preview day followed by three full days where hundreds of the most historic publicly available firearms from around the world cross the podium. Everything from fine antiques to modern classics in the making are up for bid, legacy guns from celebrated collections like William M. Locke, Malcolm King, Dr. Robert Azar, and more.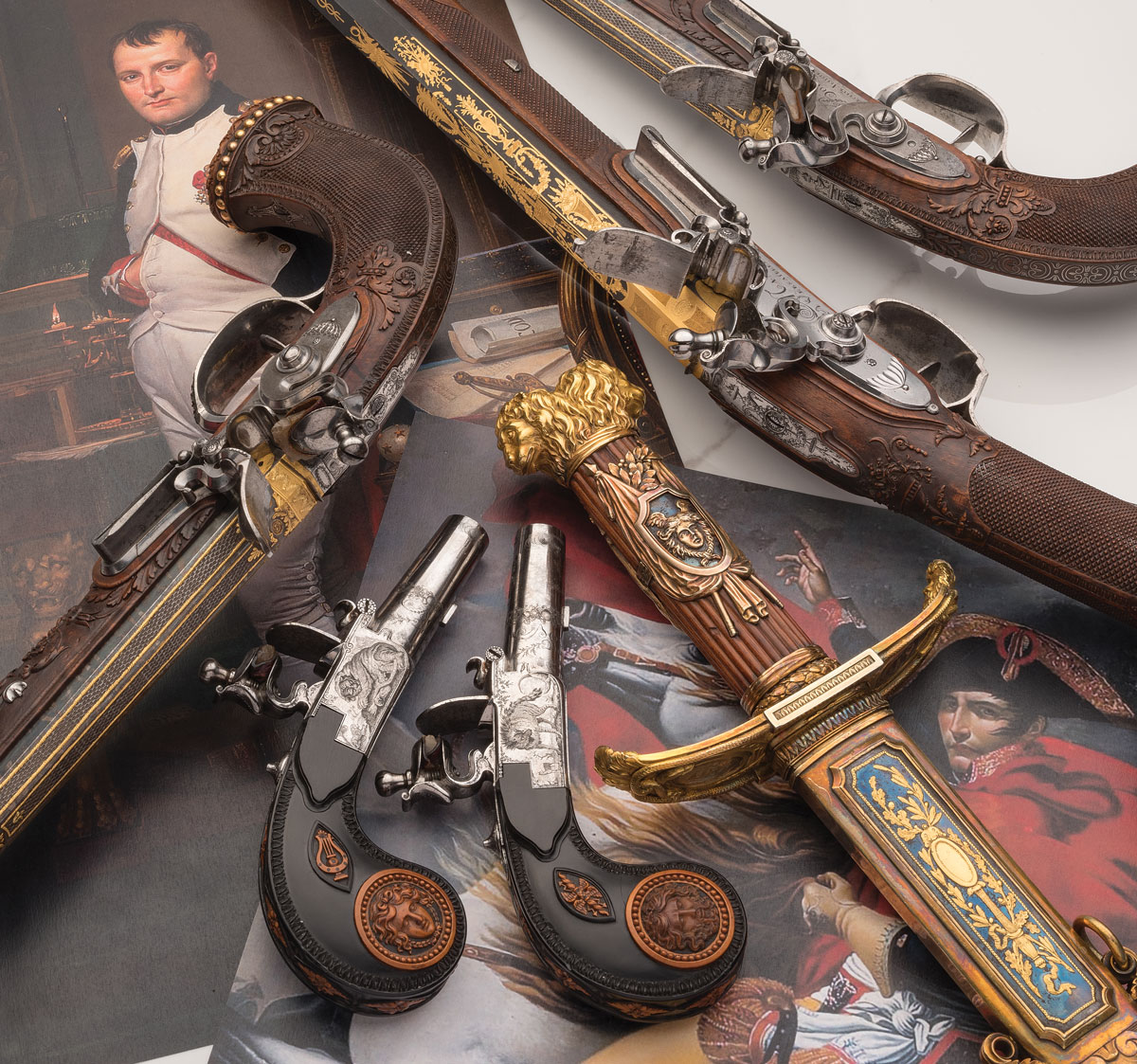 High Art
Nothing embodies the treasures in gun collecting more than December's crown jewel offering, an immensely historic collection of militaria recorded as presented to General Napoleon Bonaparte in 1797 and later presented by now Emperor Napoleon to his aide-de-camp, General Junot. This six-piece garniture of five exquisitely engraved and relief carved firearms plus a gilt dress sword are each the works of Nicolas-Noël Boutet, the famed royal gunsmith at Versailles. This lavish garniture was exhibited in England from 1816-1833 following Napoleon's defeat at the Battle of Waterloo, displayed as a symbol of the victory of the British and their allies.
Rock Island Auction Company is pleased to welcome back another headline-worthy firearm, "The Midas Bull 1 of 1000." This deluxe Model 1873 lever action rifle is one of only three "1 of 1000" rifles listed in the Winchester ledgers as factory engraved with a gold-plated finish, a John Ulrich signed, crème de la crème firearm from the Golden Age of gun engraving. December's auction also features elite works from other master artisans of the era, like an L.D. Nimschke engraved Smith & Wesson Model 320 revolving rifle and a Holland & Holland .577 Nitro Express double rifle engraved by Winston G. Churchill.
Full coverage scroll engraving and gold inlaid game scenes appear in abundance this December, with exhibition grade pieces from Westley Richards, W.W. Greener, John Rigby & Co., and other elite names in the world of sporting arms gracing the auction hall. Genuine character, sterling condition, and history you can feel in your hands. For high-pedigree hunting arms, December's spectacular selection is unrivaled.
Colts
It wouldn't be a Rock Island Auction Premier event without historic Colt revolvers, and December's auction includes one of the most prestigious lineups yet. Two Colt Patersons top the remarkable list, including a scarce silver-banded and factory cased Colt Paterson No. 5, and a rare Colt Belt Model Paterson revolver No. 2 with the original case and accessories. Other top-tier Colts include a Gustave Young master factory engraved Model 1849 Pocket revolver, and also a cased 1849 Pocket revolver with a letter from Samuel Colt himself. For Colt presentation guns, however, the auction highlight has to be a triple cased set of percussion revolvers presented by Colonel Colt to his close friend and best man, Lieutenant Silas.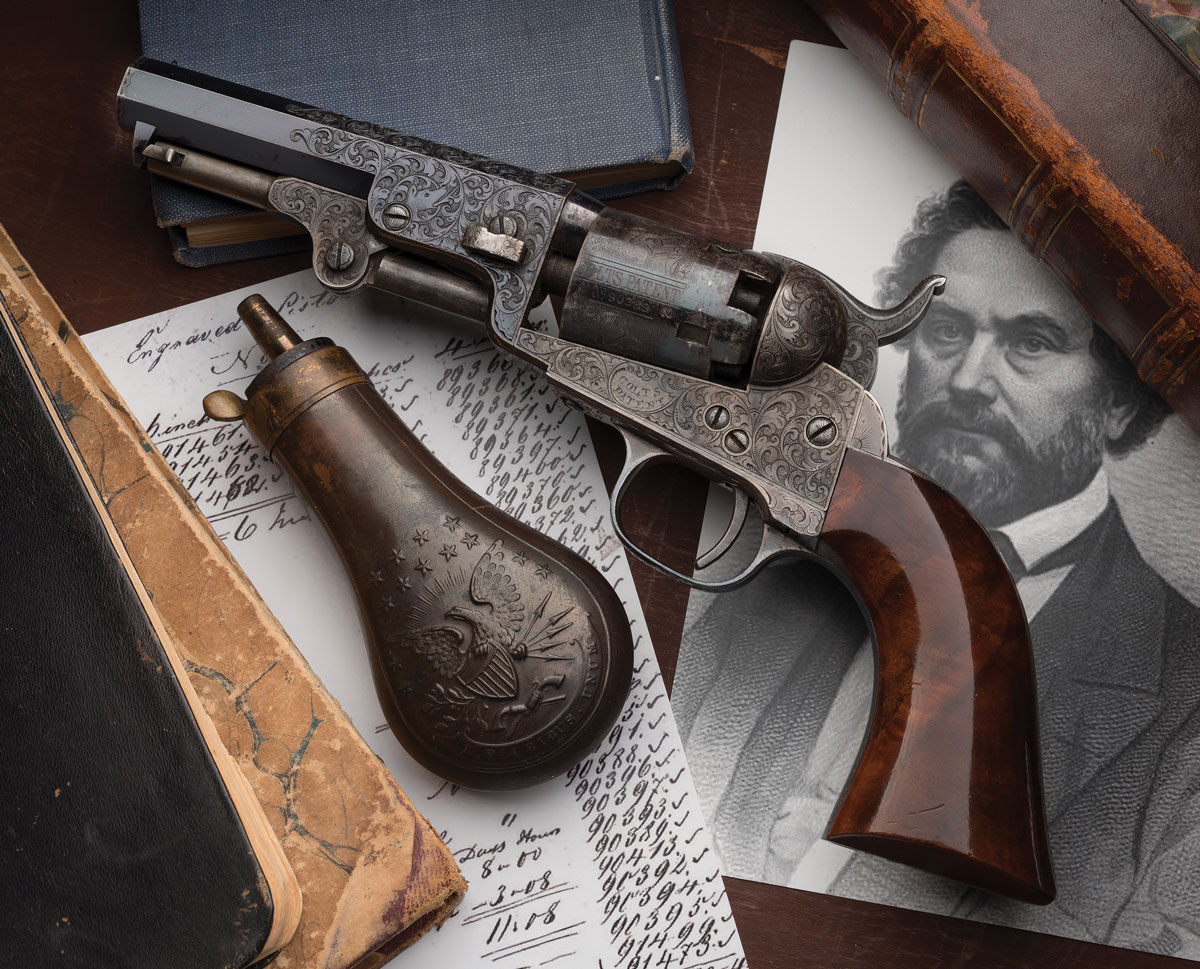 Military Arms
The 1911 pistol is another popular collector's genre, and December's auction delivers in style. The Singer 1911A1 is the clear standout, a wish list item for every WWII arms collector, and a name that is often synonymous with "Holy Grail." Other notable examples include an early production two-digit serial number 95 U.S. Colt Model 1911, a rare North American Arms Co. 1911, and a historic Colt Model 1910 prototype trials pistol, one of only 12 or fewer produced.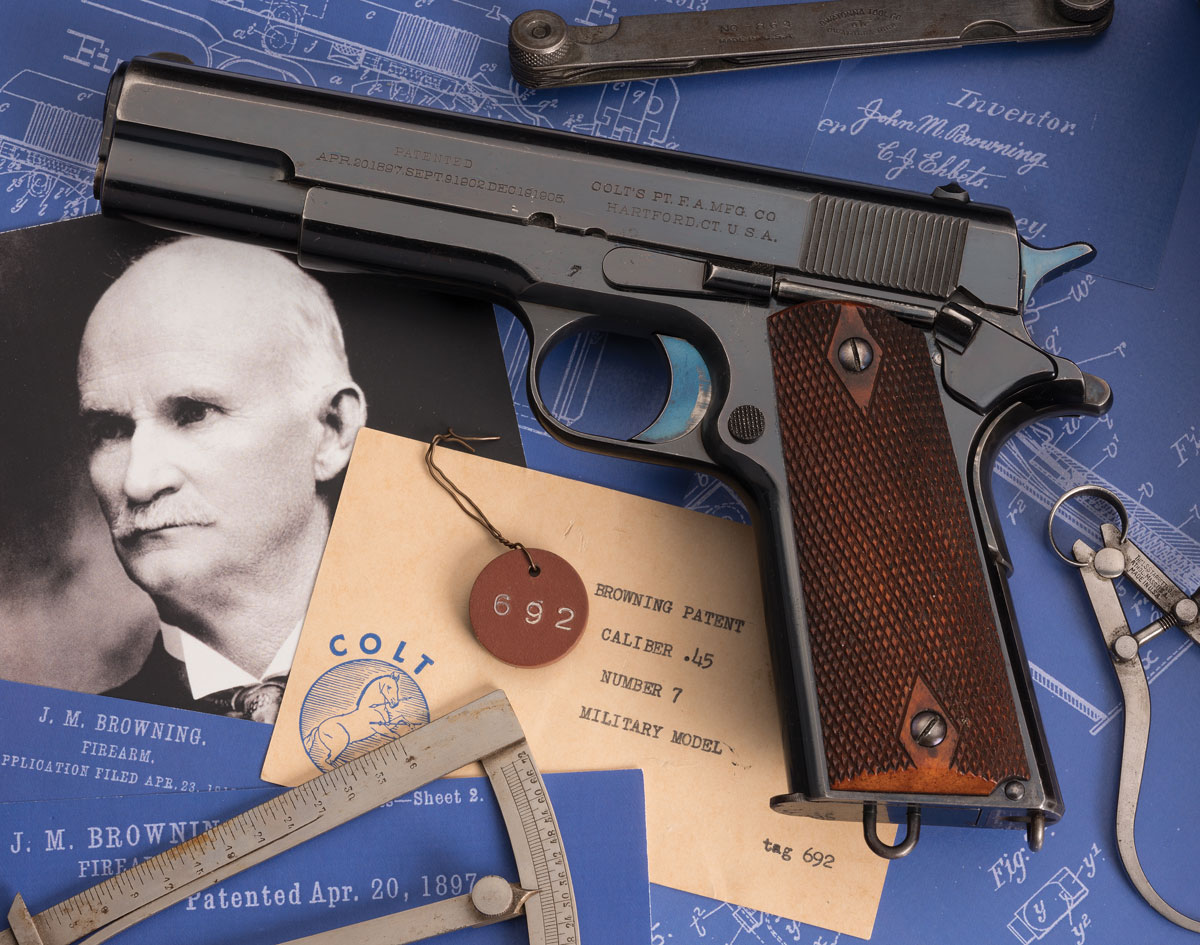 December's all-star lineup continues with a phenomenal U.S. Army Colt Model 1877 "Bulldog" Gatling Gun and other rare military arms like a documented U.S. Marine Corps Model 1921/1928 Thompson submachine gun, a Pedersen T2 trials rifle, a 1903 Mark-I rifle with a Pedersen Device and accessories, and a scarce German Panzerbüchse 39 anti-tank gun. From museum-worthy prototypes to military arms that bear the mark of the battlefield, December's auction caters to every collecting aspiration.
The Second Best Holiday in December
Rock Island Auction Company's December 3 - 5 Premier Firearms Auction features the biggest names in the field of fine arms collecting, including guns from across generations, and we've only just scratched the surface. Keep an eye out for the online catalog in the weeks ahead and join us this winter to celebrate a holiday event for the ages, and an exclamation point on a record-setting year for Rock Island Auction Company.
As always, if there are any questions regarding consignment, registration, or future auctions, please contact Rock Island Auction Company today. Our upcoming auction schedule is updated frequently on our website, so be sure to go through the listing and start making your plans to visit. All our events adhere to the latest COVID-19 guidelines and restrictions. We can't wait to see you here!