Rock Island Auction Company's August 26 - 28 Premier Firearms Auction offers a spectacular selection of legacy firearms, historic masterworks, and some of the most desirable treasures found in the world of fine arms collecting.
THE ELEMENT
CODE FOR DISCOUNT IS - RIAC AUCTION
RESERVATION MUST BE MADE BY 8/17/22
316 12TH ST MOLINE, IL
309.517.1659
$79.00 W/BREAKFAST
6:00 PM RESERVATION DAY CANCELLATION POLICY
Website
BALLY'S
BALLY'S QUAD CITIES CASINO & HOTEL
Formerly Jumer's
CODE FOR DISCOUNT IS – CRIAC08
RESERVATION MUST BE MADE BY 8/17/22
777 Bally Blvd
ROCK ISLAND, IL 61201
309.756.4600
800.477.7747
Website
The elite lineup ranges from museum-worthy revolvers like Wild Bill Hickok's Smith & Wesson Model No. 2 to pop culture icons like Han Solo's Star Wars DL-44 blaster, the only known surviving example of its kind from the original Star Wars: A New Hope film.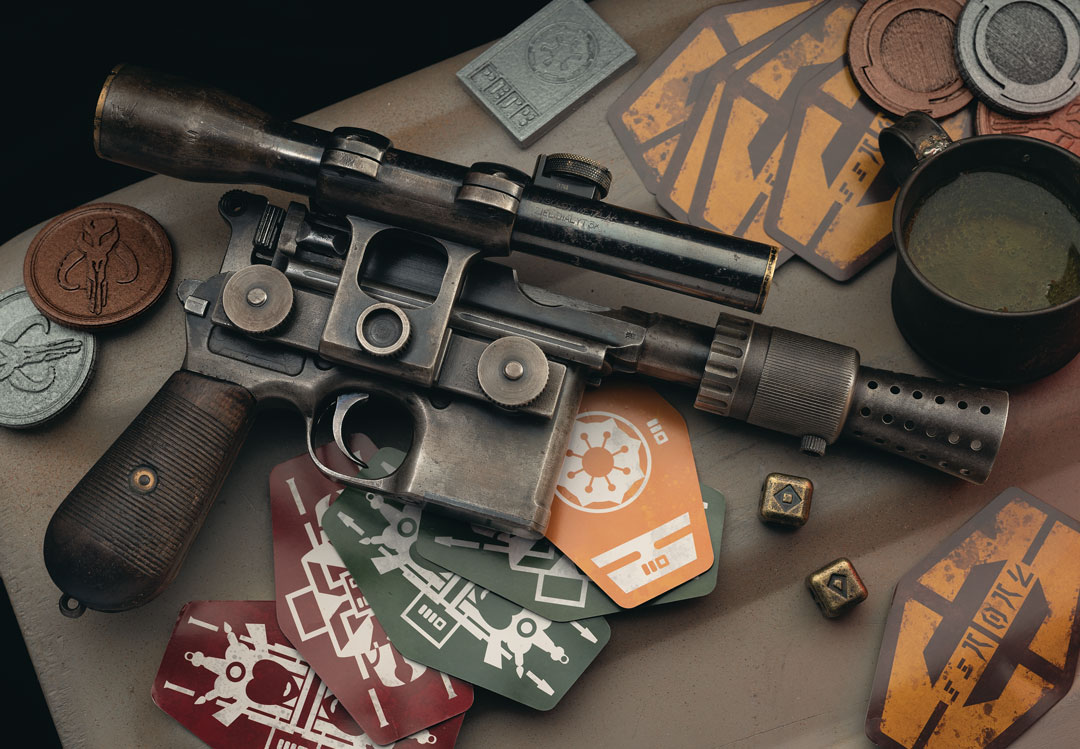 Extraordinary Rifles
As the world's number one firearms auction house, Rock Island Auction Company features some of the finest Winchester rifles publicly available, and August's Premier delivers one of the most intriguing collections yet. Topping the roster is an ultra-rare, documented Winchester "One of One Hundred" Model 1873 rifle. As one of only eight manufactured and six known today, this Model 1873 represents one of the most elusive variations of special order Winchesters and is a crown jewel in gun collecting.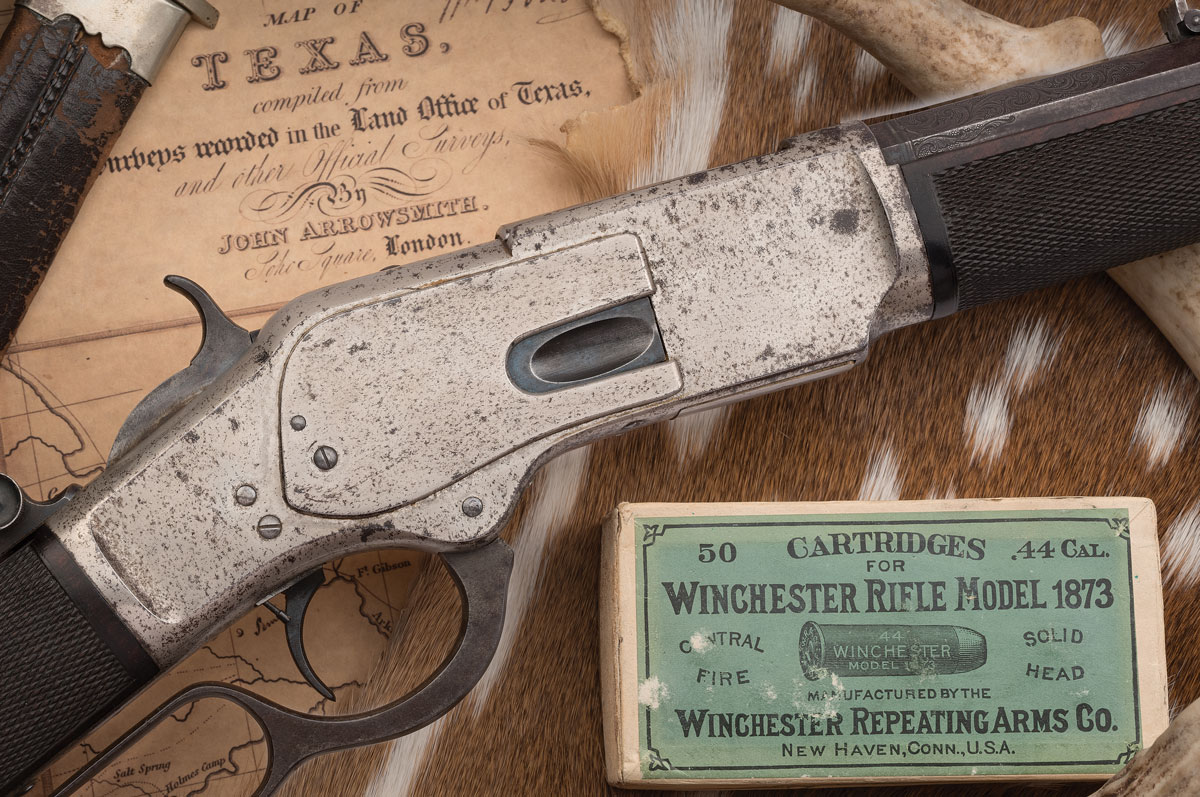 Other investment-grade Winchesters include a Winchester One of One Thousand rifle. A true cornerstone of fine arms collecting, this nickel-plated Model 1873 features an extra-long 32-inch barrel, a trait unseen on any other One of One Thousand rifle, with the original owner's name (Peter Flouck) and his home city of Houston, Texas, signed in gold inlay.
The quality continues with an NRA Silver Medal-winning and deluxe factory engraved Henry rifle. Noted Winchester author George Madis describes this rifle as "all original as made by the New Haven Arms Co.," and that "Every pin, screw, and all components are as they left the factory." The number of authentic engraved Henry rifles is limited, and serial number 3007 is a rare example that has been preserved in remarkable condition.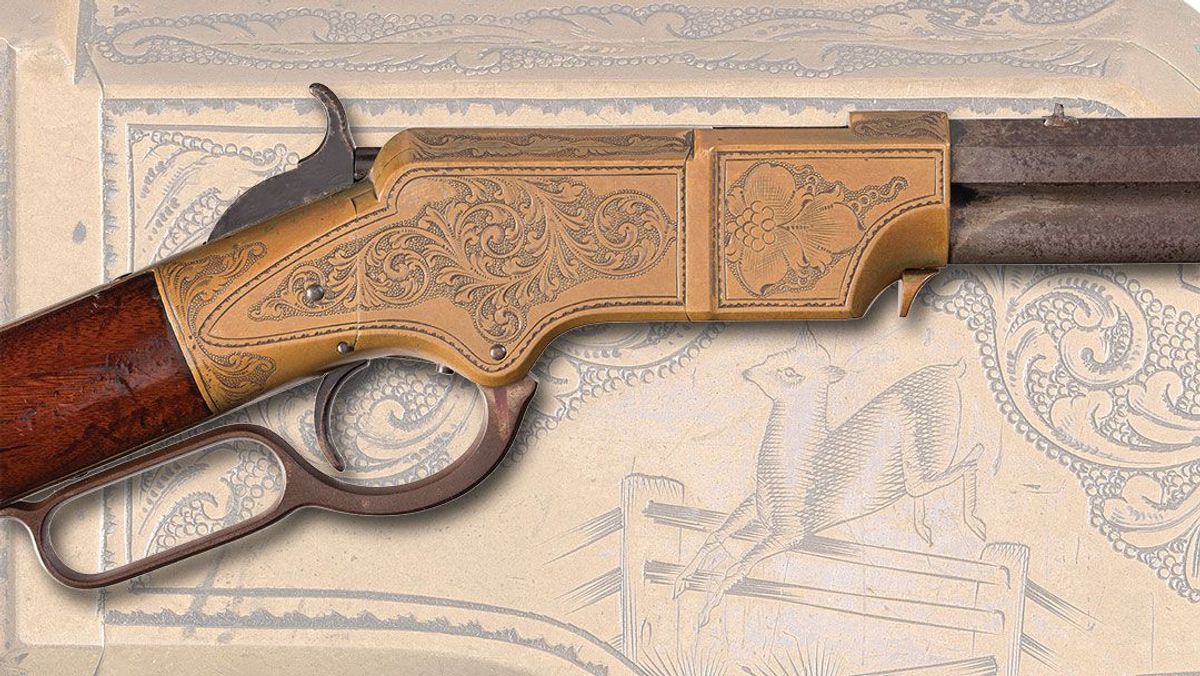 Another notable historic offering includes an L.D. Nimschke signed and engraved Henry rifle inscribed to U.S. Minister to Hawaii, General Edward M. McCook, and documented as also being owned by David Kalakaua, the Last King of Hawaii.
Historic Revolvers
Historic revolvers are another flagship of fine arms collecting, and Rock Island Auction's August Premier delivers in abundance. Leading the lineup is Wild Bill Hickok's Smith & Wesson Model No. 2. One of the legendary guns of the Old West, this Smith & Wesson is documented as the very revolver Hickok carried on the night he was shot. Many publications note that Wild Bill was carrying a No. 2 when he was murdered while holding the famous "Dead Man's Hand" during a poker game in a Deadwood saloon in the Dakota Territory in 1876, but author and sharpshooter Ed McGivern provides significant detail to support this revolver's provenance in his famous book, "Fast and Fancy Revolver Shooting." Reported to have been Wild Bill's favorite sidearm, this Smith & Wesson Model No. 2 is one of the Holy Grails of the American West.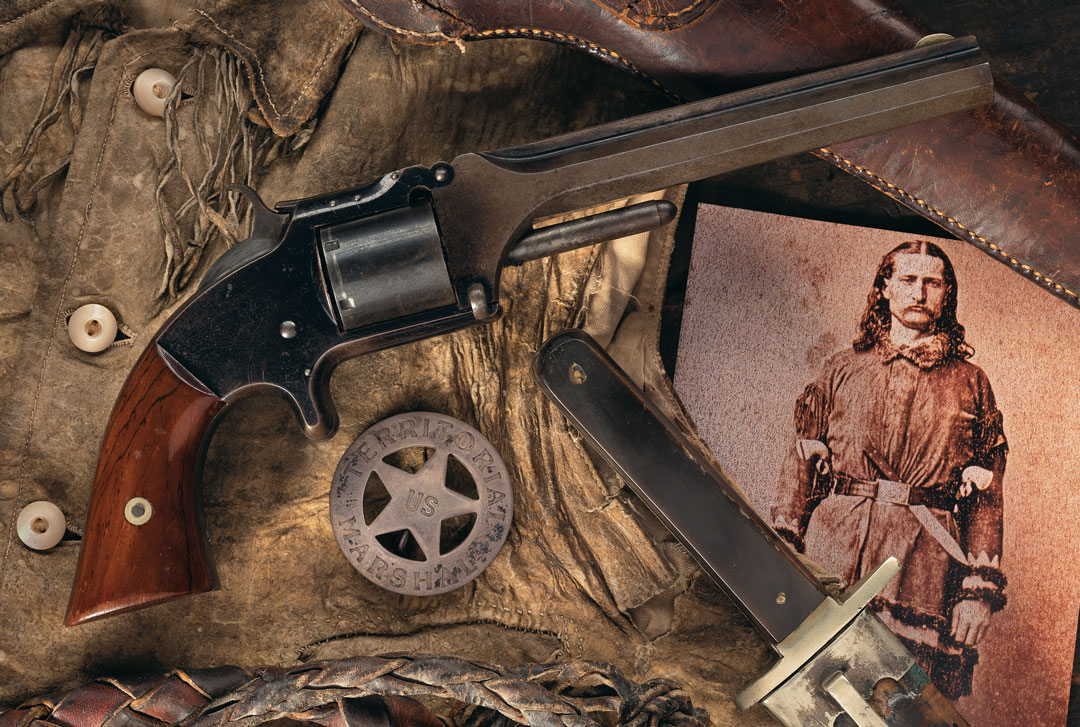 Colt Single Action Army revolvers are an American cornerstone, and two documented Wilbur Glahn factory master engraved first generation Colt SAAs with carved steer head grips certainly check all the right marks when it comes to stellar collector pieces. The August Premier also features a rare "Lot Six" Colt Single Action Army in its original Cavalry Model configuration. An accompanying Gold Seal Letter of Authentication by Colt expert John A. Kopec states that this revolver falls between serial number 6028 and 6177, which were both issued to Company F of the 2nd Cavalry and that "Most of the 2nd Cavalry were at that time stationed at Fort Laramie or other nearby outposts in the Wyoming Territory."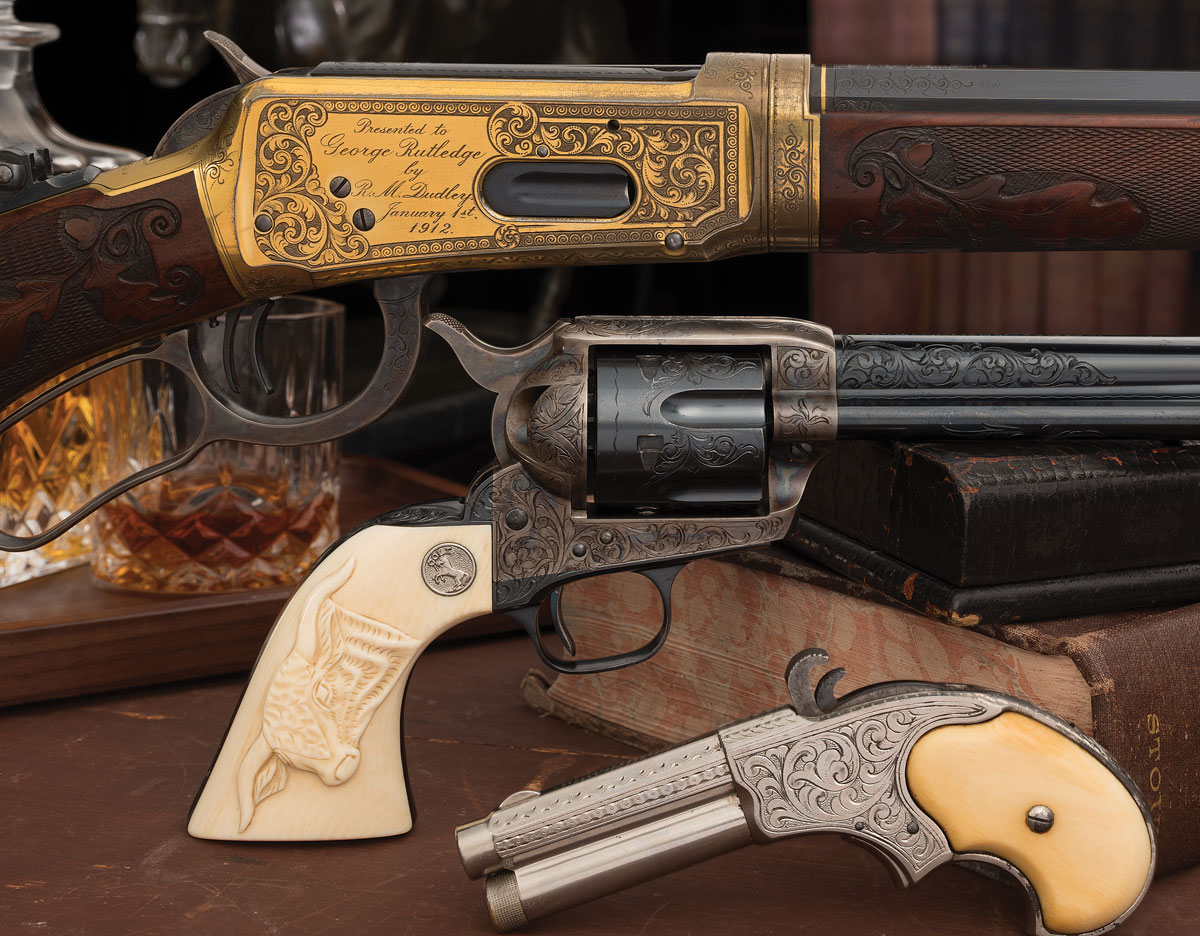 History in Your Hands
Rock Island Auction Company's August Premier Firearms Auction features supreme rarities from across the ages, from 16th century wheellocks to firearms from both World Wars, Vietnam, and beyond. Whether you're in the market for a North American Arms Co. Model 1911 pistol, a Confederate Morse breech loading center-fire carbine, or a piece of Hollywood history, the August lineup offers an unmatched level of quality to fine arms collectors of every stripe.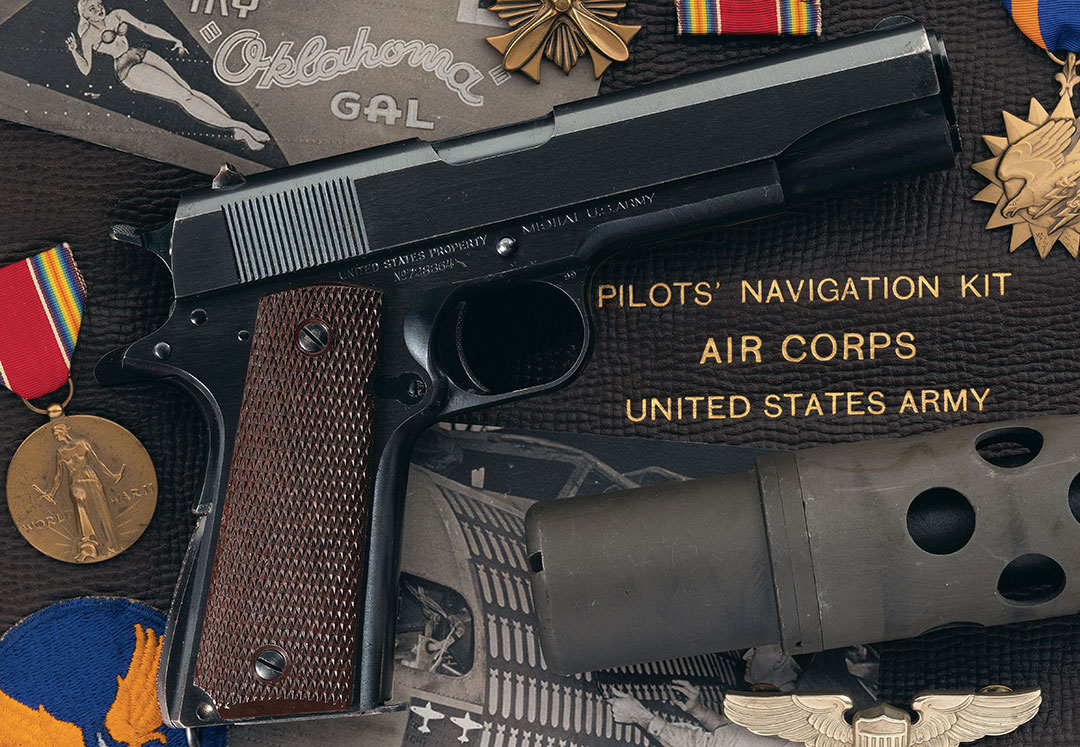 The doors open on Thursday, August 25th, where the public is invited to preview and examine these incredible items firsthand, followed by a three-day auction from August 26 – 28. Keep an eye out for the online catalog in the weeks ahead and join us this August to experience the highest level of history and artistry the industry has to offer.
As always, if there are any questions regarding consignment, registration, or future auctions, please contact Rock Island Auction Company today. Our upcoming auction schedule is updated frequently on our website, so be sure to go through the listing and start making your plans to visit. We can't wait to see you here!