Requirements to bid live using RIAC Live.
You must have a website account. If you do not, please create one by clicking here. If you have an account, please log in.
2. You must have a credit card on file with us. This can easily be submitted using your website account. (Please note that we do not store your credit card information on our web server. The data is encrypted and transmitted to our credit card processor. We only store the last 4 numbers and the expiration date to assist in identification.)
3. You must request approval to bid live. To do so, log onto your website account. From the account page, scroll down to the bottom right hand side of the page. You will see a section called "RIAC Live Auction Bidding." You will need to request approval to bid for each auction. Click the box to agree to the terms and conditions and select the auction you wish to bid in. That's it.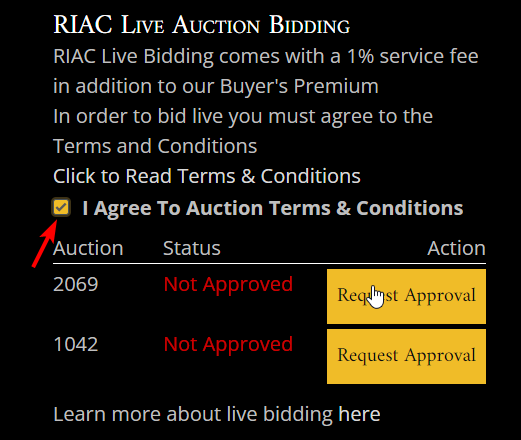 Please contact us if you require any assistance at 1-800-238-8022.
How to Find the Live Auction

Step 1: Log In
It is possible to log in for live bidding on most parts of our website by clicking "Log In" at the top of the website or directly from our live bidding page.
Step 2: Go to the live bidding page
Our live bidding page can be found at: https://www.rockislandauction.com/live
Using RIAC Live
Enable Bidding - Once in RIAC Live, if you wish to bid, you must first click the red "Bidding Disabled" button. We include this to prevent any accidental bids being placed. Once clicked, the button will turn green and read, "Bidding Enabled." You are now ready to bid and any click on the "Bid" button will result in a live bid. If you are not logged in and click "Enable Bidding," you will be directed to log in.
You can also Bid Ahead, learn more about bid ahead here

2. Video Steam / Lot Photo - By default this is where the photo of the current lot is displayed. If you click "Enable Video" in the top menu bar the photo will be swapped for live footage of the auction. Clicking again reverts back to the current lot photo. Please note: We strive for a delay of no more than 1-2 seconds, but it is dependent on a variety of factors, including your device and internet connection.
3. Lot and Current Bid Information - This section includes the lot number, the current high bid for that lot, who was awarded that bid, and a brief description of the item. If you are the current high bidder, the HIGH BID section will be green and it will indicate the high bid is "by you" instead of another bidder's name or "Floor" when a bid is awarded elsewhere.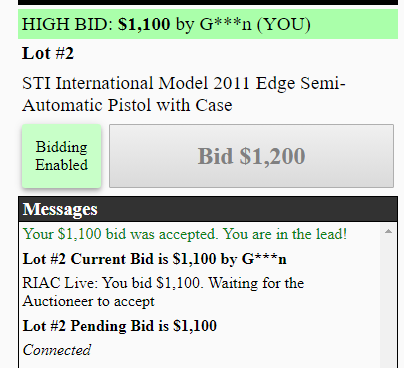 4. Messages - This is where the log of all of the live bidding action goes. This can include custom messages from our live bidding clerk, fair warning (and going once/twice) notices, notices of bid increments or current bid changes, messages of who the current bidder was, and the amount that won the lot. If you are still in the lead when the auctioneer hammers an item sold, you will see a congratulatory message in the "Messages" window. If you have been outbid when an item is hammered sold, you will see a message stating that you did not win the item.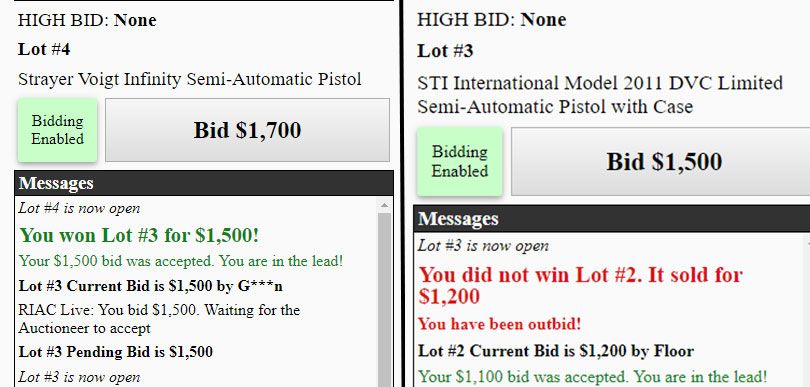 5. Live Auction Lot List / Scroller – This is a scrollable list of all the items in the current day's auction. If a lot you want to bid on is to be offered the third day of the auction, but it is only the first day of the auction, you will not be able to see it in this list. Lots can only be seen on this list on the day they are to be auctioned. If you would like to view that item, please view it using our online catalog. The current lot being auctioned is highlighted in a shade of red with a red border and a "LIVE" word/icon in it's box. This will automatically update as each lot sells so you can easily know what lot is currently active. Any items in the current auction you have added to your wishlist will be highlighted with a pale green background so that you can quickly see when an item you were interested in is coming up.
6. Settings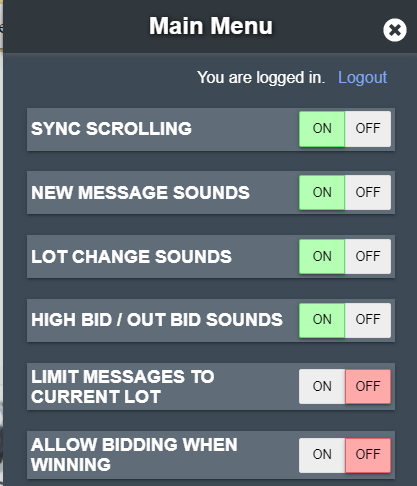 SYNC SCROLLING: The Lot List will automatically scroll as the lot advances. This can sometimes be an annoyance when looking for a specific item. You can click the first button in this settings bar to disable this auto-scrolling feature or turn it back on as you please.
NEW MESSAGE SOUNDS & LOT CHANGE SOUNDS:
If you have audio on your computer, there are two types of sounds that come from our live bidding page. One sound is a "tick" sound that is made any time a new message is populated in the "Messages" area. This can provide a helpful cue when bidding or watching the auction live. You can turn these sounds off by clicking the "New Message Sounds" button. The other sound is a chime that sounds when there is a lot advancement. This can also be disabled/enabled by clicking "Lot Change Sounds."
LIMIT MESSAGES TO CURRENT LOT: This setting will keep your Messages area less full by only displaying messages that pertain to the current lot. Once the lot ends the messages area will be cleared out and begin the next lot.
ALLOW BIDDING WHEN WINNING: Enabling this feature (when it says ON) will allow you to increase your bid amount even if you are currently the high bidder. Some bidders want this feature as it allows the bidder to increase the bid higher based on the bid increments, as well as other reasons experienced bidders use. If you are not familiar with these techniques RIAC suggests you disable this feature to prevent accidentally increasing your bid when you are the current high bidder.
Technology requirements
The auction video/audio is live streamed. A high speed broadband Internet connection is required for live video streaming. If you have a good internet connection the video latency is in most cases under 2 seconds.
Internet Browser Requirements:
Chrome 100+
Firefox 60+
Internet Explorer 11 (w/ Flash Plugin for live streaming support)
Edge - 100+
Safari 12.0+
Recommended Screen Resolution: At least 1280 x 720 (720p) for the best experience
It is a good practice to keep your browser up to date. You can check to see what type of browser you are using and if you are up to date with this website what is my browser.
For RIA Live to run properly JavaScript needs to be enabled. You can also confirm that using the same link above.
Need help updating your browser this page provides a guide for list of browsers.
Supported Mobile Devices: No mobile devices are supported for live bidding at this time and we do not recommend using a mobile device for live bidding. However, our live auction page is mobile friendly down to at least a tablet and possibly some phones for following the auction. While bidding should also be possible on a mobile device, it is discouraged at this time.
Tips
RIA Live Display: As items progress in the RIAC Live feed, it will indicate if the item is on your wish list or show your bid amount for any items on which you have previously placed sealed bids. You must be logged in to use this feature.
Text Alerts: Request a text alert and never miss the lots you are interested in. If you request a text reminder, our system will send you a text message to your phone approximately 20 lots ahead of the lot you placed the reminder on giving you plenty of time to hop online and prepare to bid.
Bid Increments: If you're live bidding in one of our gun auctions, you want to be the one placing the bids at the "jump points." We call this being "on the right foot." A quick example is that when approaching $2,000, you would want to be on the "evens" ($1,400, $1,600, $1,800, etc.) and your competition to be on the "odds" ($1,500, $1,700, $1,900). Continuing this trend means that you would place a bid at $2,000 – a simple $100 jump – but your opponent would have to follow that with a bid for $2,250 – a $350 jump from their previous bid of $1,900. This sort of jump isn't always enough to scare people off, but many times it is!
Disable Bidding: In order to place bids on the RIA Live interface you must first click the "Enable Bidding" button. If you are not going to be bidding for a while please "Disable" bid button. This will eliminate accidental bidding by you or someone else if you leave your computer.